Standing desks are becoming more popular. After all, they're a great ergonomic solution for office AND home use.
However, it's not as simple as setting them up and transferring all your things on top of it. That's because choosing the wrong product will do more harm than good.
So, in today's guide, we'll tell you all there is to know about the standing desk — from the different options and benefits to the best setup and potential drawbacks.
Of course, we'll also tell you how to find the best standing desk for your needs too.
The Benefits of Using a Standing Desk
On a normal day, you can stay seated for hours — whether working or surfing the net.
This sedentary behavior can affect you both physically and mentally. Fortunately, standing desks (or stand-up/sit-stand desks) can reduce or eliminate the bad effects of sitting.
Below are a few of the benefits of height-adjustable standing desks when you use them properly:
1. Alleviating Back Pain
When you stay seated, all the pressure goes to your lower spine. That's why your back hurts when you sit down for hours without stretching or moving.
However, the best stand-up desks decompress your spine. Being in a standing position takes the pressure off your neck and lower back.
Alongside this, a stand-up desk can strengthen your lower back too.
2. Improving Posture
It's unnatural for the human body to stay in one position for hours. If you stay in an unnatural position, you'll be putting stress on your whole body.
So, if you've caught yourself slouching or leaning too close to your screen countless times, your setup isn't ergonomic. This causes your body to push itself into an unnatural position.
But, with the right standing desk's height, you'll be working while keeping your body in a neutral position.
This can improve your posture, which will also relieve the pressure on your body.
3. Boosting Energy Levels and Productivity
Have you experienced feeling like it gets harder to think and concentrate the longer you stare at your computer screen?
That's because sitting for long periods can reduce brain function. This lowers your productivity, especially as you approach the last hours of your work shift.
On the contrary, regularly switching between sitting and standing positions causes the heart to pump more blood to the rest of the body — including the brain.
This will boost your energy levels and productivity. It also lowers fatigue.
4. Reducing the Risk of Health Issues
Our body isn't naturally designed to stay in one position for too long. A standing desk can help reduce the risk of health issues brought about by sitting for long periods.
For one, you can burn more calories standing than sitting. You'll also lower health complications, such as:
Obesity
Diabetes
Cardiovascular problems
However, standing desks will have different effects depending on your circumstances.
As such, understanding standing desk benefits and drawbacks will help you decide whether it's something you should get. It can also help you get the right standing desk for your needs.
Types of Standing Desks
There are different types of stand-up desks, and all of them can provide the benefits listed above.
However, to experience those benefits, you must choose the best one for your needs. So, below are some types of height-adjustable standing desks:
1. Manual Adjustable Standing Desks
You'll have to turn a crank to adjust a manual standing desk. It tends to have a lower lifting capacity and a limited range of sizes.
You likely won't want to reset them once you've adjusted them since repositioning them can take a lot of effort. This is especially the case if you've put a lot of things on top already.
A manual standing desk is cheaper than an electric standing desk. Because of that, they're great for a first standing desk.
2. Electric Adjustable Standing Desk
You can easily adjust an electric standing desk with a push of a button.
It's a better option for those with back or shoulder pain since it takes less effort to adjust than a manual standing desk. However, an electric standing desk tends to be more expensive than other desks.
Dual-Motor vs. Single-Motor Standing Desk
A single-motor standing desk has a lower weight capacity. That's because it only has one motor that controls the two legs. This means it has to withstand all the pressure by itself.
However, this type of electric desk is cheaper in upfront costs than other electric desks.
Despite that, we recommend a dual-motor standing desk over a single-motor.
That's because dual motors are more secure with higher weight capacities. They also last longer since the motors split the pressure put on the desk.
Admittedly, they're more expensive — but they're a worthier investment.
3. Converter Standing Desks
Standing desk converters are the most economical option since you don't need to replace an entire desk!
Instead, just set this on top of your existing desk and adjust it as needed.
A standing desk converter is extremely portable too.
However, it may have a smaller working space compared to other standing desks. So, this may not be something to consider if you have a setup with multiple monitors.
4. Fixed-Height Standing Desks
As the name suggests, a fixed-height standing desk is built to a specific height. Since it's a solid desk, you can't adjust it at all.
You'll need to transfer your items to and from desks if you want to switch between sitting and standing heights while working.
However, they blend more naturally with your other furniture. They're sturdier and more durable since not being adjustable means they can be made with a more solid build. It makes for a very stable desk too.
Another great thing about fixed desks is that you can use them as other office furniture as well. That means you can add features such as shelves and drawers if you have them made.
Best Standing Desks
There are many kinds and models of stand-up desks in the market. To help you quickly narrow down your options, we've listed the best stand-up desks to continue:
1. Desky Dual Standing Desk – Best Overall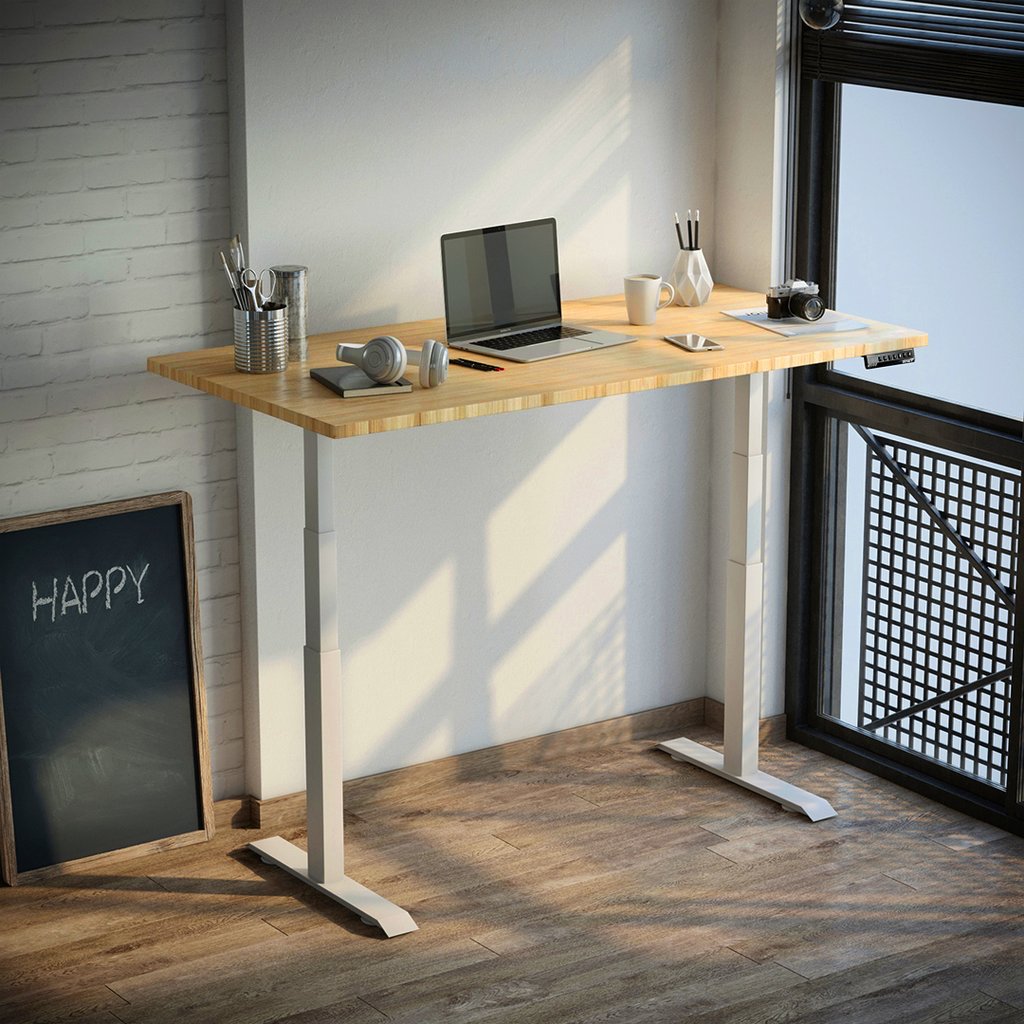 Features
Desktop size – 47.2″ x 29.5″/ 59.1″ x 29.5″/ 70.9″ x 29.5″
Base weight – 79.4 lbs
Maximum load capacity – 308.6 lbs
Adjustability – electric
Height range – 23.6″ to 49.2″
For all the eco-friendly workers out there, the Desky Dual standing desk is the best electric standing desk for you. That's because it's made from sustainably grown and certified bamboo.
Bamboo may be grass, but if used correctly, it makes for exceptionally sturdy desktop construction. This electric standing desk isn't made of a single block of solid wood.
Instead, it uses a three-layer cross-hatch lamination coated with multiple layers of polyurethane finish. On top of that, threaded inserts ensure that this height-adjustable desk can last over a decade too.
This electric standing desk is tested and certified by multiple agencies to ensure the highest standard of safety and quality.

The cable management system with integrated power is above and beyond what you will find from other brands for a similiar price point. You can connect up to 9 plugs, 3 x USB-A & 3 x USB-C, making it the best choice for video editors and pro photographers who appreciate abundant easy-to-access sockets.
Our one complaint is that the new bluetooth controller launched in Australia has not yet made its way to Canada. Only a matter of time one would assume.
Pros
Made from sustainably grown and certified bamboo
Electric frame has been tested and certified by BIFMA, TÜV Rheinland, and UL/CSA
Sturdy desktop construction
Has a 10-year warranty
Cons
Desky's new bluetooth controller & app isn't available worldwide yet
2. Flexispot E7 Pro Plus Standing Desk – Easy Ordering
Features
Desktop size – 48″ x 24″ / 48″ x 30″ / 55″ x 28″ / 60″ x 24″ / 60″ x 30″ / 72″ x 30″ / 80″ x 30″
Weight – 100 lbs
Maximum load capacity – 455 lbs
Adjustability – electric
Height range – 22.8″ to 48.4″
The best standing desk for us is this one by Flexispot. The E7 Pro Plus is one of the company's more expensive standing desks, but we promise it's worth the price.
For one, we loved the many customization options it offers. On top of that, Flexispot throws in two free gifts that can range from a bamboo monitor stand to an under-desk hammock.
The motorized standing desk has up and down buttons on its premium keypad. It also has a child-lock feature marked by "M." This keypad also has a USB Type-A port to charge your devices. However, it doesn't support fast charging.
This Flexispot standing desk has quiet dual motors that can control the desk setup in less than 10 seconds!
However, the assembly process was tricky for me. The diagrams weren't always clear, and there could have been more pre-drilled holes to make the assembly easier.
Pros
Many customization options
Comes with an integrated cable management tray
Has a child lock feature
Quiet dual motors
Cons
Can be tricky to assemble
Controller not the greatest
3. Branch Standing Desk – Best Premium Option
Features
Desktop size – 48″ x 30″ / 60″ x 30″
Base weight – 115 lbs
Maximum load capacity – 275 lbs
Adjustability – electric
Height range – 25″ to 52″
The best premium standing desk on this list is the Branch Standing Desk. This is especially great for people at least six feet tall since it has a maximum height of 52 inches.
But, because of that, it might not be the best option for users below mid-5 feet. We also didn't like how it only provides cable ties and adhesive-backed zip-tie mounts rather than an actual cable management tray.
This electric standing desk is a basic standing desk. However, we assure you that it has an excellent feel and build quality — making it stand out among other premium standing desks.
We found the assembly process quite confusing, so we really appreciated how the company offers white glove installation. This covers delivery, assembly, and cleanup for an extra fee.
Pros
Great for tall people
Offers white glove installation
Simple but premium build
Cons
Doesn't have cable management
Might not be good for people below mid-5 feet tall
4. FEZIBO Height-Adjustable Electric Standing Desk – Best Budget Option
Features
Desktop size – 40″ x 24″ to 63″ x 24″
Base weight – 83 lbs
Maximum load capacity – 176 lbs
Adjustability – electric
Height range – 27.5″ to 46.9″
FEZIBO's standing desk is our budget standing desk pick for this list. Admittedly, it's not as cheap as other budget standing desks, but it's good value for the price.
For one, it has anti-collision technology to protect the table from bumps and scratches.
The electric standing desk is an L-shaped desk, making it perfect for corners. Aside from that, it makes reaching for things easier compared to other standing desks that are just long and straight.
We liked how the FEZIBO standing desk comes with an additional riser you can use for your laptop or monitor.
This motorized desk also has swivel casters that rotate 360 degrees for easier and smoother transportation compared to any other standing desk in its price range.
One thing we didn't like about it is that the tabletop feels quite cheap since it's just compressed plywood. You have to be gentle when putting the screws in place, or you might strip the wood.
Pros
Made with anti-collision technology
Has 360-degree lockable swivel casters
L shape makes it easier to reach things
Comes with an additional riser
Cons
5. Uplift V2 Standing Desk – Most Customizable
Features
Desktop size – 42 x 30 to 80 x 30″ / 106.7 x 76.2 to 203 x 76.2cm
Base weight – 59.4 lbs (frame only)
Maximum load capacity – 355 lbs
Adjustability – electric
Height range – 25.3″ to 50.9″
Uplift is one of the most renowned standing desk companies, and the Uplift V2 standing desk is one of our absolute favorites! After all, who doesn't want to get a fully customizable desk?
The Uplift V2 is the only desk we've seen that lets you have a say in everything — from the desktop materials and style to accessories like built-in storage drawers and standing desk mats.
You can even order other workspace needs alongside a standing desk. This includes cabinets, storage caddies, and office chairs. On top of all that, the Uplift V2 standing desk has a 15-year warranty.
The assembly process might be confusing, especially if you've ordered a lot of accessories. Fortunately, there are assembly guides and videos you can check online.
One thing I'd warn you about the Uplift V2 is that it's not the most stable standing desk if you use it at max height.
Despite that, we still recommend you give this high-end standing desk a shot.
Pros
Highly customizable
Can come with a lot of accessories
Offers a 15-year warranty
Has assembly guides and videos online
Cons
Can be wobbly at max height
6. Effydesk Business Standing Desk – Widest Height Range
Features
Desktop size – 47″ x 29″ / 59″ x 29″ / 70″ x 29″
Base weight – 83 lbs (frame only)
Maximum load capacity – 310 lbs
Adjustability – electric
Height range – 24″ to 50″
If you want the most basic of the motorized standing desks, check out the Effydesk Business standing desk. It's simple and straightforward to use.
It has a pretty wide height range — so unless you're taller or shorter than average, this can be a nice standing desk.
However, we do have a couple of complaints.
For one, the desktop has no warranty. We didn't like the low-quality laminate that easily shows fingerprints.
We were also frustrated with how it takes around an hour to assemble this electric standing desk — not to mention you'll need tools for it too.
We'd say it's a pretty expensive standing desk compared to other desks, especially for something that offers the bare minimum. But if you just want a new desk that does its job, then this might work for you.
Pros
Simple and straightforward to use
Cons
Desktop has no warranty
Low-quality laminate
Only comes in three color choices
Need tools to assemble
Factors to Consider When Buying a Standing Desk
If you want to be more objective in searching for the best standing desk, you should check certain factors that answer your needs.
Below are things you should consider to get the right stand-up desk for you:
1. Height Range
Height range should be the first factor you should look at when checking desks. Most standing desks have a range of 17 inches to 27 inches.
It should definitely be a deal breaker if a desk doesn't go low or high enough for you.
That's because it won't provide the right ergonomics to keep your body in a neutral position.
There are standing desk height calculators and charts online, so you can check which height is the best for you.
2. Stability and Sturdiness
A height-adjustable standing desk tends to be unstable the higher you set it. So, you'll want a desk with rock-solid stability even when it's raised to its maximum standing height.
Obviously, if you apply too much force the wrong way, a desk can topple. However, a great standing desk won't wobble with just a few fingers.
A desk's stability will depend on its price and materials. For instance, you might feel your setup would be safer with a steel frame than one made of plastic.
Regardless, a good cheap standing desk will at least be able to let you type fast without feeling like it will fall over.
3. Desktop Size and Material
You'll want a desk surface that comfortably fits your work setup.
Generally, a stand-up desk offers more space than standing desk converters. You might be able to fit dual monitors, a keyboard, a mouse, and other essentials — like your notes and pens.
But a standing desk converter might be a better option if you're only working with a laptop.
A desk's materials also affect how well your computer desk will last.
If it's made of wood, solid wood like maple or oak is better than a simple particleboard or reclaimed wood. A bamboo desktop would also be a good option.
Meanwhile, an iron or steel frame will undoubtedly be sturdier than plastic.
On top of all that, any material will deteriorate over time. As such, check if these materials are rust-proof, mildew-proof, and waterproof.
4. Weight Capacity
Each stand-up desk is labeled with a maximum weight capacity. However, we still don't recommend putting that much weight on the desk.
If you test standing desks, you'll realize they won't always lift according to their weight capacity. Or, if it does, it might not do so consistently.
You'll also realize that the weight you put on the desk will affect its overall adjustment speed.
Regardless of your desk's lifting capacity, ensure you don't go over it. Otherwise, you'll shorten its lifespan.
5. Customizability and Additional Features
Normally, there's not much to customize with many standing desks since what you see is what you get.
However, you can customize a desk if you get one made for yourself since you can control everything — from design to height.
You can make one with a bamboo desktop or a colorful finish.
A fixed-height desk might also be able to offer you the most customization. That's because you can add shelves and drawers to the desk frame.
If you prefer to buy a new standing desk rather than having it made, you can still check for features that you'll find helpful.
For instance, a control box or a cable management tray can help you handle your wires. Cup holders, under-desk drawers, handy lockable drawers, and hooks can also help you comfortably work standing. A keyboard tray makes typing more comfortable.
6. Price and Warranty
The cheapest stand-up desks aren't the worst, and the most expensive aren't necessarily the best either.
However, if you want more features for your desk, expect your expenses to increase.
On top of that, you should also check for warranties. There are two things to keep in mind when looking at the warranty:
Warranty for the desk's structure — this includes the desk frame, surface, and feet
Warranty for electronics — this specifically applies to electric standing desks
Electronics for an electric standing desk would be the biggest concern since we've found that they're what will most likely fail first.
You might notice brands having a limited lifetime warranty. When you look closer at each brand, you'll also see that electronics tend to have a much shorter warranty period.
How to Set Up Your Standing Desk Ergonomically
The best standing desks won't be able to work any magic if you use them incorrectly.
As such, you should also know how to set up your standing desk ergonomically to make the most of them:
1. Correct Monitor Height and Distance
The top of your screen should be at eye level. It should also be slightly tilted upwards at 10 to 20 degrees. This is so that you won't need to tilt your neck up or down to see the whole screen.
The screen should also be ideally 20 to 28 inches from your face.
You can get help from monitor arms to keep your monitor at the right height.
2. Keyboard and Mouse Placement
When positioning your computer keyboard and mouse, the general idea is that they should be on the same level. Your wrists should also be straight while you're typing.
When standing, the ideal angle is slightly more tilted upwards than when sitting.
If you still experience sore wrists, an adjustable keyboard stand and gel mouse pads can help relieve any pressure.
3. Body Alignment and Stance
Relax your shoulders and keep your neck tall. Rather than hyper-extending or locking your knees, keep them slightly bent.
The stand-up desk should be at your elbows' height so you can bend them at 90 degrees.
4. Using an Anti-Fatigue Mat
Prolonged sitting can be just as bad as prolonged standing.
That's because it can cause blood to pool in the legs and feet. Eventually, this will result in chronic and painful varicose veins.
On top of that, you'll also experience joint pain in your lower body.
Fortunately, anti-fatigue mats encourage subtle movements in your leg muscles to improve blood flow and reduce discomfort.
Recommended Sitting and Standing Intervals
Aside from learning to set up and use your standing desk correctly, you should also know how to maximize its benefits.
One way to do that is to follow recommended sitting and standing intervals so you don't accidentally force your body into doing either for too long or short.
Below are a few quick and easy tips to do:
The 20-8-2 Rule
The 20-8-2 rule is a working pattern where you work for 20 minutes, stand up for 8 minutes, and move around for at least 2 minutes.
This strikes a balance in not just standing and sitting but walking too. It ensures you also get away from your office space to decompress your mind and body for a few minutes.
You can use a sit-stand alarm so you don't get carried away with sitting, standing, or moving.
Listen to Your Body
The 20-8-2 rule isn't absolute.
You can use that as a guideline for your own schedule. However, it's more important to listen to your body to know when you should stand and when you're comfortable enough to sit again.
If you are fatigued and your 20 minutes of sitting isn't up yet, it's still best to already stand up.
Also, if you look and feel like you need to take a break, go get that much-needed rest.
Denying your body its needs will only backfire on you in the future. It will negatively impact you both physically and mentally.
Utilizing Breaks and Movement Opportunities
Using your breaks and moving when you can is physically and mentally good for you.
If you're on a break, try to get away from your stand-up desk until it's time for you to start working again. Walk around your office space or home or do some stretches.
You can also incorporate movements whenever you can.
For instance, you can answer a call or have an audio-only meeting while walking away from your stand desk.
Doing all these will keep your heart pumping blood to prevent numbness and fatigue. This will also boost your energy levels and brain function.
Frequently Asked Questions
To help you understand and appreciate stand desks more, we've answered some frequently asked questions below:
Can I Use a Standing Desk All Day?
No, you should never use a standing desk all day. It's best to only stand for 5 to 15 minutes every hour.
Being on the stand-up desk for too long will cause pain in your lower body. It will reduce circulation too, so you'll also eventually deal with fatigue and numbness.
As such, it's best to balance your time sitting and standing so you don't experience side effects from either one.
This will also keep your blood flowing to keep your brain functioning well.
Do I Need a Special Chair to Use With a Standing Desk?
You don't really need a special chair when using a stand-up desk.
However, you should ideally have a chair that offers good ergonomics. An ergonomic chair should have adjustable seat height, depth, and lumbar support to support good posture.
This increases your comfort level and reduces body pains as you work while seated.
An ergonomic chair also encourages good circulation to keep you productive.
How Do I Know Which Standing Desk Height Is Right for Me?
The sit-stand desk surface should allow your elbows to bend at 90 degrees. As such, you can simply measure the height from the bottom of your elbow to the floor.
However, you should ideally measure this while you're on the same flooring or footwear where you'll use the desk.
Are DIY Standing Desk Setups Effective?
Yes, DIY standing desk setups are effective if you make them well.
In fact, the best sit-stand desk for you might be a DIY one! For one, it can be cheaper to create your own.
But more than that, you can customize everything about it to match your other office furniture. You can choose your own desktop and frame colors, materials, finish, and features.
However, a DIY electric standing desk might be harder to make than a non-electric one.
Can Kids Use Standing Desks?
Yes, kids can use stand-up desks.
In fact, stand-up desks are good for kids the same way they're good for adults! These desks combat sedentary behavior, which will also help reduce the risk of health problems, such as:
Obesity
Type 2 diabetes
Cardiovascular disease
Body pains
Of course, depending on the child's height, you might need a different stand-up desk for them to use. If you can't find something small enough for them, you might have to order a specially-made one.
Conclusion
The best standing desks will alleviate back pain and health issues, improve posture, and boost energy and productivity.
However, to experience these benefits, you must choose the best desk that answers your needs.
On top of that, you'll have to follow the right setup and recommended sitting and standing intervals to make the most of your desk.
If you're excited about getting your own standing desk, refer to our top five above as a starting point. But remember to consider factors — from the height range to warranties — to get the best high-quality standing desk.